Welcome to Amagami SS Wiki!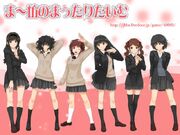 Haruka: Hi people! Welcome to Amagami SS Wiki! Enjoy yourself here, won't you? *wink*
Junichi: Umm, Morishima-senpai, the welcome is already stated above.
Haruka: Wow, I didn't know that! I thought I did a good job in introduction.
Rihoko: Ah, there you are Junichi! I was looking everywhere for you.
Junichi: You should've used the search box to find me faster, Rihoko...
Rihoko: Eh, I didn't know it was there. Hehe..
Miya: Ah! Nii-nii, so this is where you are. Look, I brought Sae-chan and Ai-chan with me!
Sae: Umm... H-Hi, S-Senpai...
Ai: Senpai, what are you doing?
Junichi: Hi everyone, well I've been busy helping Ayatsuji-san with the Wiki here.
Ai: That seems a lot of work.. Senpai, want me to massage your back? I'll throw in a special surprise if you accept.
*giggles*
Junichi: Eh?! Well, n-no it's alright.
Sae: Umm, I'll b-be pleased to massage for you... Senpai...
Junichi: N-No, I think I'm alright... Thank you.
Kaoru: Hoiii, Junichi! *jump and grabs his back* I want a massage!
Junichi: K-Kaoru! Get off me will you?
Kaoru: But I want a massage... can you do that for me, darling?
Junichi: Seriously! And don't call me that!
Miya: Hmmm...Nishishi. Nii-nii has been popular these days.
Haruka: Ahh, I want to hug Tachibana-kun too!
Rihoko: Junichi, my shoulder has been stiff when I was looking for you. Can you massage my shoulders?
Junichi: W-Well... Umm...
Tsukasa: *glares*
Junichi: ...Eh? A-Ayatsuji-san!
Tsukasa: *smiles* Can I borrow Tachibana-kun for a moment? Thank you.
Junichi: Umm.. Well...
Tsukasa: You're doing good getting along with the other girls, huh?... Tachibana-kun.
Junichi: H-How can I say this... Well...
Tsukasa: Well, I guess I can forgive you if you'll come with me and finish off editing the Wiki. I'll might treat you with the bento... I... made today.
Junichi: Alright then - BWAHH!
Haruka: Meow Meow Attack!
Rihoko: Meow Meow Attack 2!
Kaoru: Hmm, fufufu, that looks fun... Meow Meow Attack 3!
Sae: Umm.. Ano... M-Meow Meow A-Attack 4!
Ai: Teehee. Senpai, I'll go for you below. Meow Meow Attack 5!
Junichi: N-No, everyone!... I-I'm getting kinda dizzy!
Tsukasa: ... grrr... MEOW MEOW ATTACK 6!!! *punches his face*
Junichi: BWHHH!
Tsukasa: *walks away* ...Baka...
Rihoko: Junichi! Are you alright!
Sae: S-Senpai!
Haruka: Hehehe! Enjoy the rest of Amagami SS Wiki!
Umehara: ... ... ...Why is he such a lucky bastard?! *cries*

Ad blocker interference detected!
Wikia is a free-to-use site that makes money from advertising. We have a modified experience for viewers using ad blockers

Wikia is not accessible if you've made further modifications. Remove the custom ad blocker rule(s) and the page will load as expected.