Kyouko Tono
Name
Kyouko Tono
Kanji
桃乃今日子(とうの きょうこ)
Romaji
Touno Kyouko
Bio
Gender
Female
Birthday
February 22th
Blood Type
B
Status
Alive
Family
Shouichi Kamita(Husband in Kyouko's arc) / Unnamed Daughter(in Kyouko's arc) / Kyouko's Mother
First Appearance
Anime
Seiren
Seiyū
Japanese
[Juri Kimura]
Image Gallery
A "childhood friend who acts like a student at a girls' middle school." She has been the childhood friend of the protagonist since kindergarten, and they used to play together at a park at the top of the hill. She is an honor student in class 1-A who has excellent grades. On the other hand, she also loves shōjo manga and can also act a bit childish, and has a complex about the two sides of herself.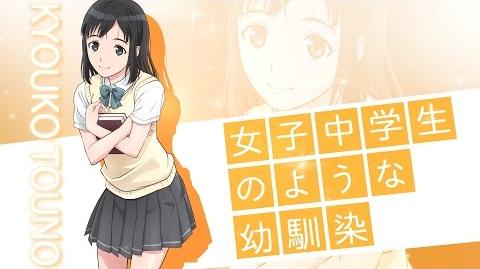 Ad blocker interference detected!
Wikia is a free-to-use site that makes money from advertising. We have a modified experience for viewers using ad blockers

Wikia is not accessible if you've made further modifications. Remove the custom ad blocker rule(s) and the page will load as expected.