Miu Hiyama
Name
Miu Hiyama
Kanji
桧山水羽(ひやま みう)
Romaji
Hiyama Miu
Bio
Gender
Female
Birthday
August 5th
Blood Type
A
Status
Alive
First Appearance
Anime
Seiren
Seiyū
Japanese
[Shiori Izawa]
Image Gallery
An "elite girls' high school swimming club member." She is in class 2-D at Yosento Girls High School, a high-class school. She is ignorant of the ways of the world. She has always attended a girls' school, so she is jealous of those who go to co-ed schools.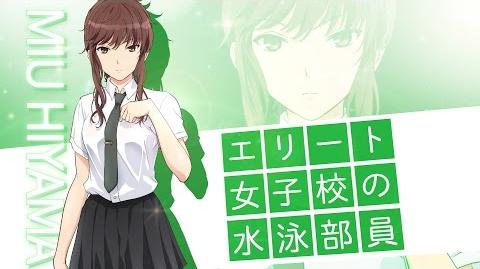 Ad blocker interference detected!
Wikia is a free-to-use site that makes money from advertising. We have a modified experience for viewers using ad blockers

Wikia is not accessible if you've made further modifications. Remove the custom ad blocker rule(s) and the page will load as expected.